Risk allocation
There are thousands of potential investment opportunities for the Fund. How do we choose the best ones?
Risk allocation process
We use a risk allocation process to:
decompose each investment's risk and return - clearly understand what additional risks each investment brings, above the

Reference Portfolio

, and the return we expect to achieve to compensate for those risks; and
allocate the risk and return - allocate capital to and from investments on a timely, consistent and commercial basis.
This second step is achieved through the use of risk budgets.
Each investment is assessed in three ways:
we look at the drivers of expected return (essentially our beliefs about what gives rise to an investment opportunity);
our confidence in the expected return (derived from our view of how well we understand the drivers and their transparency and credibility); and
our view of how good a fit it is with our way of investing. This is derived from how consistent it is with our target operating model, our investment themes and our focus on Responsible Investment.
The better a prospective opportunity or existing investment satisfies each test, the higher its attractiveness ranking. For a prospective investment, a higher ranking means it is more likely that we will seek an access point – passively, directly or via a manager. Ranking is also key to sizing our investment - how much active risk we allocate to an opportunity.
For an existing investment, a higher ranking means that at the very least we are likely to maintain that investment. It may also mean that we allocate further risk capital to it. The reverse is true of a lower ranking: a likely outcome is a reduction in the size of the investment or a total, orderly, exit from it.
Key factors
The factors which give us the highest confidence are:
a high degree of consistency between our endowments and investment beliefs, and the investment;
the ability to gain a clear view of why the opportunity exists and why it will improve the portfolio;
alignment with our long-term investment themes,
low reliance on skill alone (including our own) as the driver of expected returns; and
the highest ability to identify and manage the investment risk ourselves.
Risk budgets
As part of our risk allocation process we use risk budgets to ensure we allocate active risk consistently over baskets of investment opportunities. Risk budgets are the best means to ensure a single-portfolio focus for the whole team, rather than simply meeting an asset-class quota.
Within a Board-approved overall active risk budget for the Fund, various investment opportunities with similar underlying drivers are grouped together into baskets by the Guardians' Investment Committee.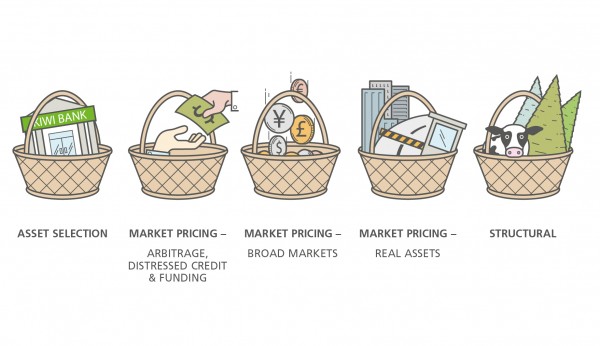 The investment opportunities in each basket have similar risk characteristics e.g. diversifiers, market pricing or asset pricing.
The overall risk budget is allocated by the Investment Committee across these baskets.
Teams of investment professionals monitor investment opportunities relating to a given basket, making risk allocation recommendations to the Chief Investment Officer and General Manager Portfolio Completion.
These risk allocation recommendations inform our investment and divestment activities.
Risk budgets help us assign capital judiciously, allowing investment professionals who are deeply familiar with investment opportunities to be closely involved in decision-making.
Performance is monitored by the Investment Committee and the Board.