Statement of Intent and Statement of Performance Expectations
When reading our Statement of Intent and Statement of Performance Expectations it is important to remember that the Fund is constructed in order to maximise long-term returns.
This is particularly relevant to the investment performance measures, statement of estimated Fund returns and forecast financial statements, and in assessing the Fund's performance. It is not possible to predict short-term financial market returns with any useful accuracy. Performance over short and medium time frames can and will be volatile.
We report on how we have performed against our Statement of Intent (SOI) measures and Statement of Performance Expectations (SPE) activities in the Statement of Performance in our Annual Report.
Statement of Intent
Our Statement of Intent provides an overview of the Guardians and Fund, sets out the key elements of our five-year strategic plan and provides a detailed explanation of the measures against which we report on our performance in the key areas of investment, cost control, risk management, governance and organisational capability.
The performance measures we have chosen reflect our mission to maximise returns without undue risk to the portfolio as a whole, and our focus on managing the Fund in line with global best practice.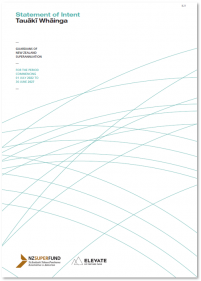 Statement of Performance Expectations
The annual Statement of Performance Expectations shows our high priority activites and forecast financial statements for the relevant financial year. It also includes an estimate of Fund returns for the year.